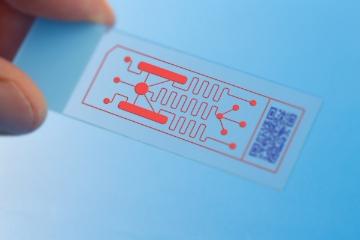 High-Resolution Photosensitive Permanent Film for Forming Fine Patterns at Higher Aspect Ratios
This is an epoxy resin based permanent film with high resolution photosensitivity. This permanent film offers high resolution, high adhesion properties, and the ability to form micro-patterns with higher aspect ratios. It is suitable for forming interlayer insulators, hollow structures for flow channel MEMS, and cavity structures for SAW/BAW filter RF devices.
Film type for lamination and liquid type for spin coating are available.
We also have products with characteristics such as low autofluorescence and low cytotoxicity which are required for BioMEMS.
TMMR/TMMF Series
TMMR and TMMF series are photosensitive permanent film type photoresists for structure formation and insulation layer formation. The film type can cover a film thickness of 400μm or more by multilayer. This series enables patterning with high aspect ratio. It can be used for various applications such as MEMS, insulating layers, semiconductor packages, etc. It can also be used to form hollow structure patterns.
Features
High adhesion to substrate
Excellent chemical resistance
High Heat Resistance
High resolution and vertical profile to achieve high aspect ratio
Low autofluorescence, very low cytotoxicity
(ISO-10993-5 compliance)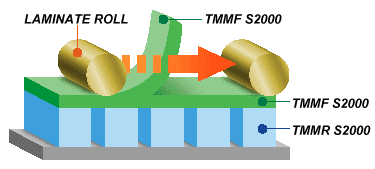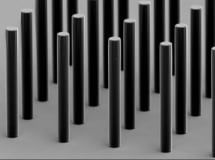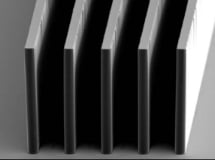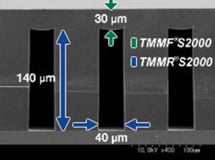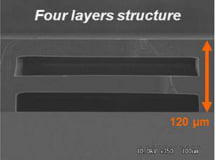 Chemical Resistance Evaluation
Initial Condition
Resist Film Thickness : 30μm
L/S : 20μm / 30μm
Acid Treatment
| | 23°C / 3h | 50°C / 3h |
| --- | --- | --- |
| 5% H2SO4 | | |
| 5% HCl | | |
Alkaline Treatment
23°C / 3h
2.38 % TMAH
5% NaOH
(Line=40 μm)
Organic Solvent Treatment
| | 23°C / 3h | 50°C / 3h |
| --- | --- | --- |
| Acetone | | |
| IPA | | |
| NMP | | |
Photosensitive Film Type TMMF NA1000 ( Liquid Type TMMR NA1000PM ) 
Structure Formation and Substrate Bonding Can Be Done With a Single Material
Negative type dry film resist (solvent development type)
Suitable for low temperature bonding
Low auto-fluorescence, extremely low cytotoxicity (ISO-10993-5 compliance)

Film Type Process Flow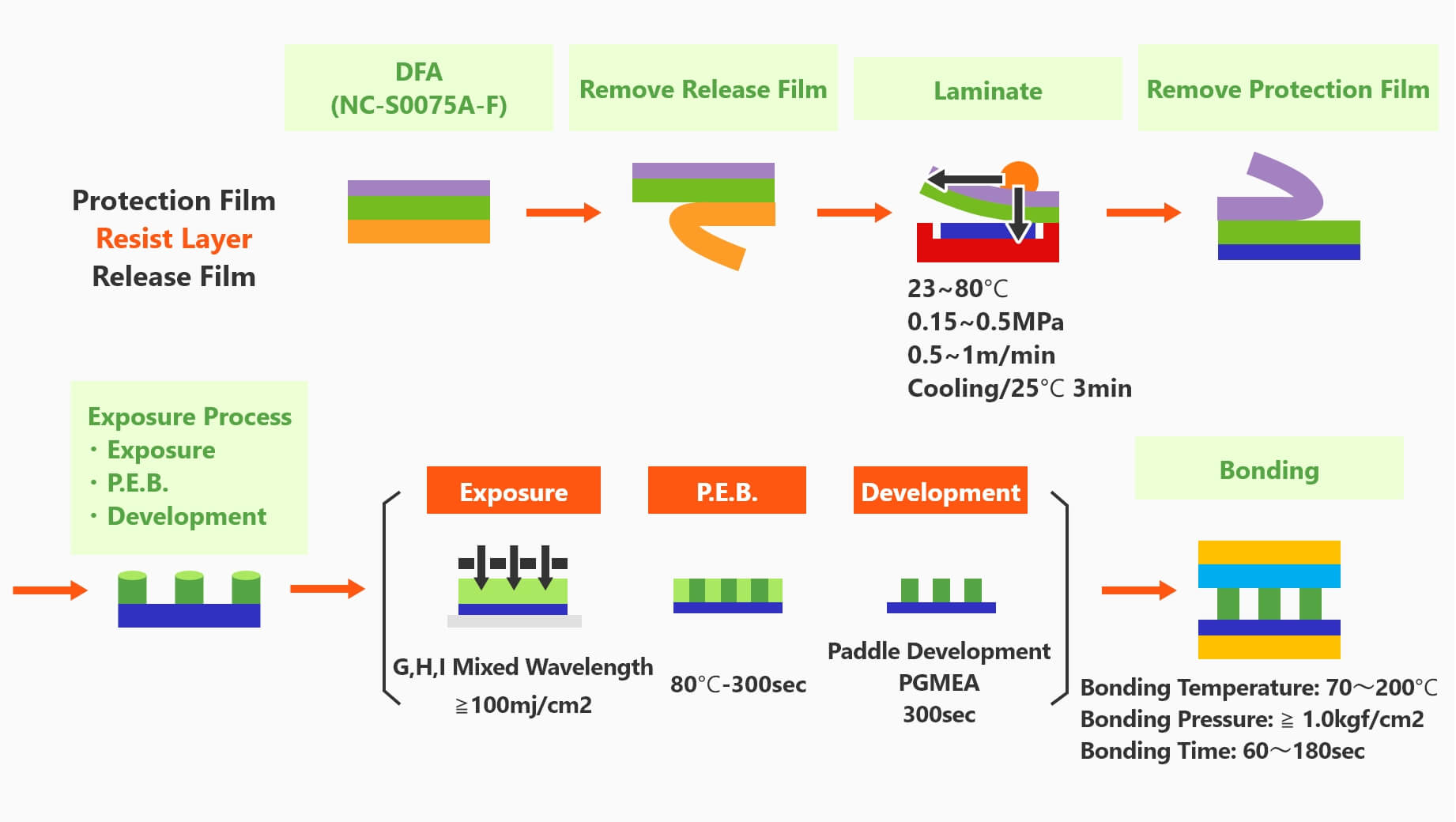 Semiconductor Chip to Semiconductor Chip, Semiconductor Chip to Various Substrates
Applications: Oscillation Devices, MCM, LED, Printer Heads, TSV Device Junctions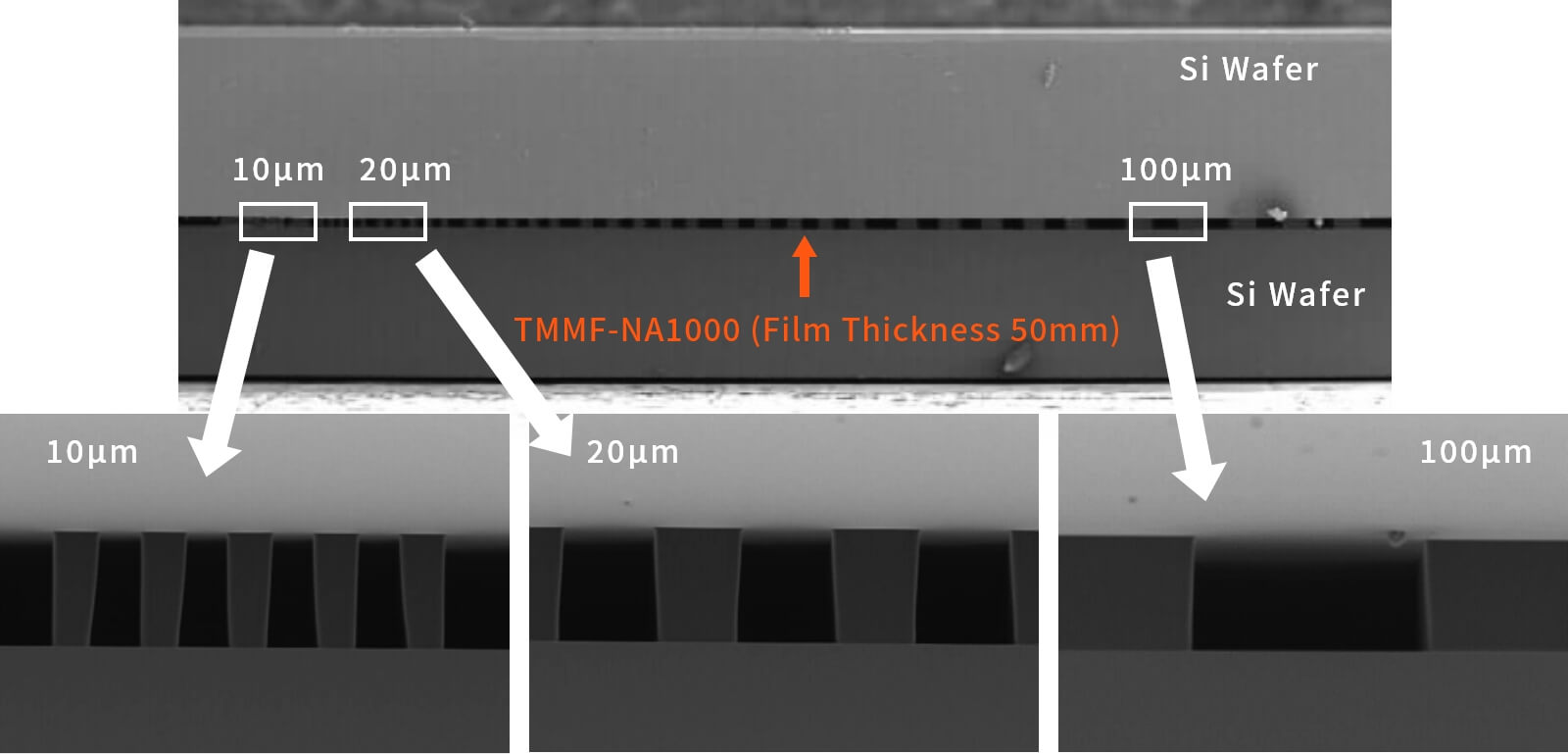 Low Temperature Curing (200℃)
PGMEA Development
Good Adhesion
Suitable film thickness range (5~60μm)
High heat resistance (up to 280℃)
Chemical resistance
Bonding Strength

Auto-Fluorescence

We offer film type TMMF NA1000 for lamination and liquid type TMMR NA1000 PM for spin coating.
TMMR and TMMF in the text are pending or registered trademarks of TOK.
Please Feel Free to Contact Us for More Information
Sales Division
Product Site Contact
For any questions or concerns,
Send an Inquiry Through the Web
Business Hrs: 8:45-17:30 JST (excludes weekends and holidays)
Bio/Life Science
For any questions or concerns,
end an Inquiry Through the Web