What is Through Silicon Via (TSV)?
Through silicon via (TSV) is a technology that allows multiple silicon IC chips to be stacked on top of each other, with thin pieces of silicon forming vertical through silicon vias inside the chips (see Figure). This technology enables IC chips to be stacked vertically, enabling higher functionality without increasing the chip surface area. In addition, compared to conventional packaging using wire bonding, this technology reduces the signal travel distance, thus saving power.
TSV Application Example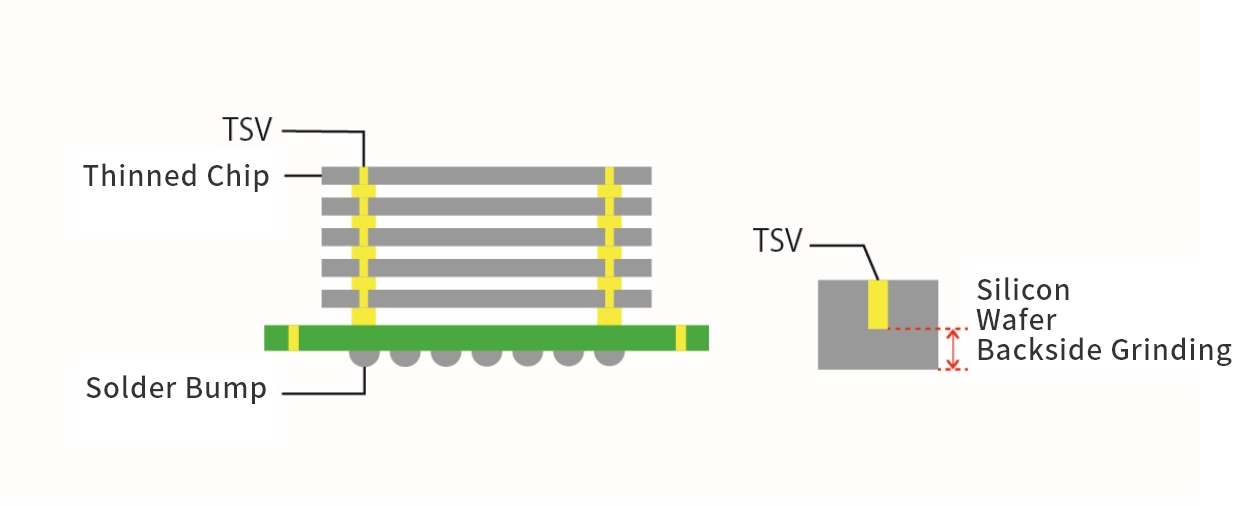 What is Zero Newton™?
In order to use TSV technology, the height of the IC chips that can be mounted on the final product is limited. Due to this limitation, we grind the wafer to less than 1/10th of its regular thickness (about the thickness of a piece of paper). This certainly leads to lowered durability, and in order to protect the wafer from cracking during the grinding process the wafer must be attached to support glass before grinding; the support must then subsequently be removed.
In addition to materials such as temporary adhesives and carrier substrates used during grinding, we have developed equipment for attaching wafers to support glass (TWM series) and equipment for removing support glass and cleaning temporary adhesives (TWR series) through M&E, and handle them using our wafer handling system "Zero Newton™".*
*The name comes from the fact that other wafer handling systems at the time placed heavy stress on the wafer when the adhesive was removed from the carrier substrate, whereas our system was designed to reduce the stripping force (Newton is the unit of force) to as close to zero as possible.
Zero Newton™ Process Flow

What are Zero Newton™ Materials?
The TSV manufacturing process is divided into three major steps: support glass attachment, silicon wafer grinding, via formation, and support glass separation (see process flow above).
The Zero Newton™ material is used in both the attachment and separation processes. In the attachment process, the wafer is attached to the support glass in order to maintain durability of the wafer during via formation. TOK provides temporary adhesives for this process. The separation process involves removing the support glass that is no longer necessary after vias have been formed as well as removing the temporary adhesives, and we also provide custom thinners for cleaning that leave no residual adhesive.
Customer Support Through a Three-Pronged Total Solution
As mentioned above, for the wafer handling system (Zero Newton™), we provide adhesives and equipment for attaching support glass, as well as stripping and cleaning equipment for removing support glass and cleaning adhesives, etc. after process flow, as well as cleaning solutions used in the equipment.
At TOK, we are able to provide both equipment and materials to our customers, and we are able to solve their problems by supporting them with a three-pronged approach: material, equipment, and process optimization.
Thanks to this three-pronged customer support, several tens of units of Tokyo Ohka's wafer handling systems have been installed for customers worldwide.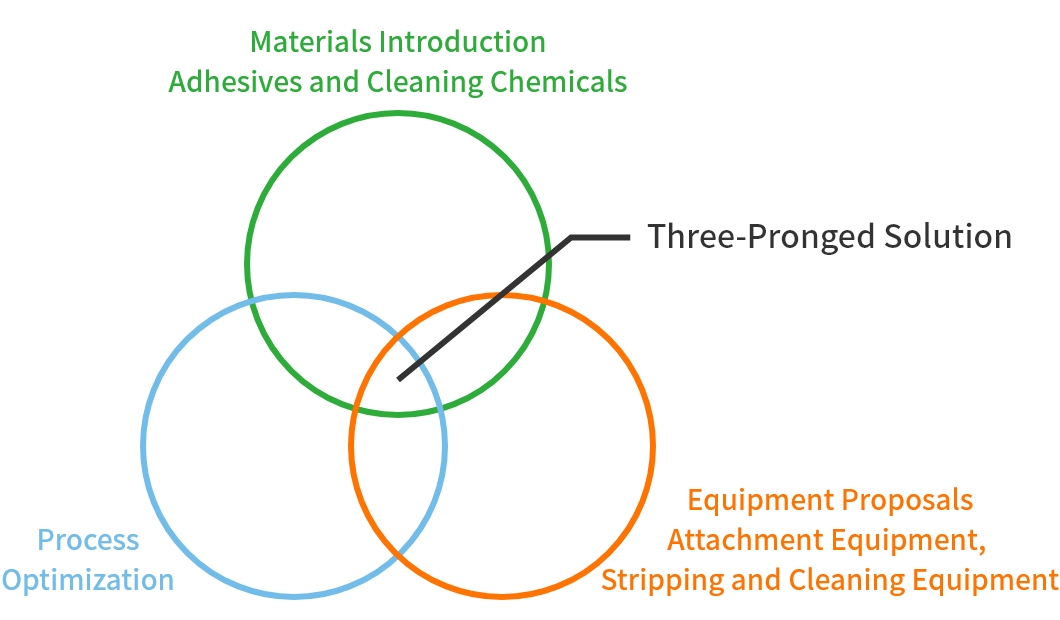 Zero Newton in the text is a pending or registered trademark of TOK.