High Definition of Liquid Crystal Displays
The panel of a liquid crystal display (LCD), which is a representative of a flat panel display (FPD), is covered with a large number of pixels (dots that form the basis of the image) that make up the panel. There are millions of these pixels in a single panel, and an on/off switch, called a thin film transistor (TFT), is used to switch the image on and off (Fig. 1).
Fig. 1 - Pixels That Make Up an LCD Panel

Thin Film Transistors (TFTs) Embedded in Liquid Crystal Panel
In recent years, LCD panels have become increasingly high definition, and by increasing the number of pixels (e.g., 2 million for Full HD, 8 million for 4K), a clear and easy-to-view screen display can be achieved. In a smartphone with a limited screen size, the TFT of the switch must also be made small. In addition, TFTs must not only be small, but all must have the same shape or they will not work properly, resulting in a defective panel due to loss of display function (Fig. 2).
Fig. 2 - Functional and Defective LCD Panels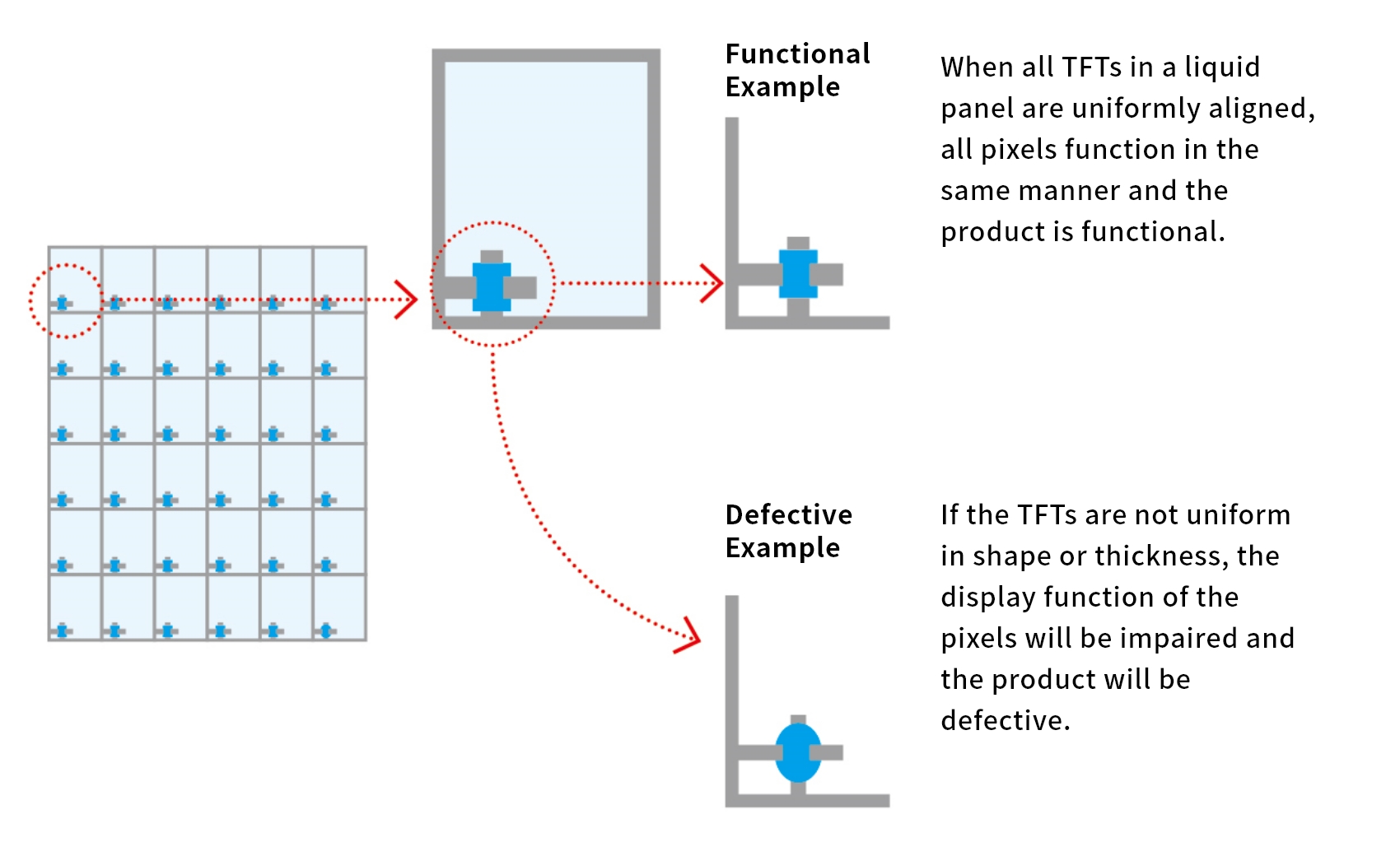 For this reason, photoresists for LCD panels, which are used to form small TFTs and circuit patterns, are required not only to have the ability to draw patterns evenly and one by one on the entire panel surface as miniaturization progresses, but also to improve the patterning efficiency in order to maximize production efficiency for the customer. To achieve this, photoresists need improved photosensitivity (the property of undergoing a chemical reaction when exposed to light).
We have successfully developed high definition photoresists for displays ahead of our competitors by combining the high sensitivity and quality stability technologies for large surface areas that we have cultivated through our semiconductor business, and many of our customers have been using these products.