We provide high-precision coater/depositing systems with a coating method suitable for various substrate sizes and shapes, such as large square substrates and wafers.
Non-Spin Type Coating Equipment Compatible With Square Substrates
The Spinless is a slit-type coater that uses non-spin method to dispense materials around the surface of the substrate.
It is capable of applying liquids of various viscosities with low load and uniform film thickness throughout the surface.
Slit-Type Dispensing System That Enables High-Precision Dispensing of High-Viscosity Materials on Large Square Substrates
This is a non-spin type dispensing system that enables high-precision slit coating of high-viscosity materials, thanks to the development of unique main parts.
Our slit nozzles, high-precision discharge pumps, and valves for high-viscosity materials enable high-speed coating without unevenness and with excellent film thickness uniformity.
Application Examples: resist coating, PI varnish coating
Specs
| | |
| --- | --- |
| Slit Nozzle | SUS-Made |
| Coating Pump | Maximum 2 units can be loaded |
| Applicable Substrate Size | TN90000S Series:1500×1850(mm)、TN45000S Series:730×920 (mm) |
| Applicable Viscosity | 1000cP~10000 cP |
Coating System for FOPLP
This is a coating system for fan-out panel level packages (FOPLP) that can coat low to high-viscosity materials. This system enables the realization of fan-out packaging technology using a glass carrier instead of a wafer. FOPLP is a technology that will play a leading role in the next generation, enabling the production of chips with approximately four times the surface area proportional to the thickness of the wafer, and the production of large chips in large volumes. We have been a pioneer in the development of coating technology for flat panel displays, and have brought to market a high-precision coating system that can handle both low and high viscosities.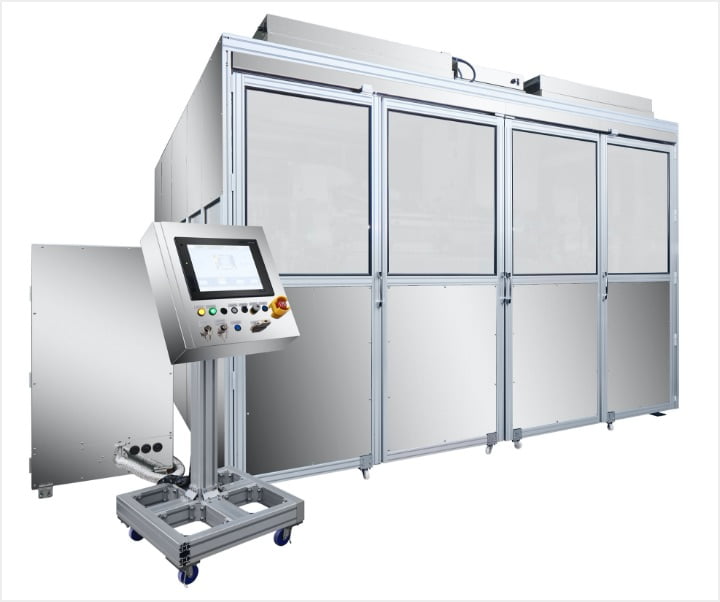 Spinless Fan-Out Panel Level Packaging
System for Applying Adhesives and Release
Layers to Glass Carriers
This is coating equipment for both low-viscosity release layers and high-viscosity adhesive applications. The system is also equipped with a correction mechanism for warped substrates, and employs space-saving design with a movable stage to enable continuous processes of vacuum drying and pre-baking.
Specs
| | |
| --- | --- |
| Applicable Substrate Size | 510 × 515mm、600 × 600mm |
| Equipment Configuration | Spinless unit, VCD unit, pre-bake unit, transfer robot, and GEM300 compatible |
| Applicble Viscosity | ~10000 cP |
| Software | GEM300 compatible |
Spinless in the text is a pending or registered trademark of TOK.
Resist Coating Equipment
This is a coating system that supports various spin coating related technologies.
The system has been designed for use in a wide range of applications, including thin and thick films, double-sided devices, simultaneous processing of different recipes and different sizes.
Semiconductor Spin Coater/Developer CS Series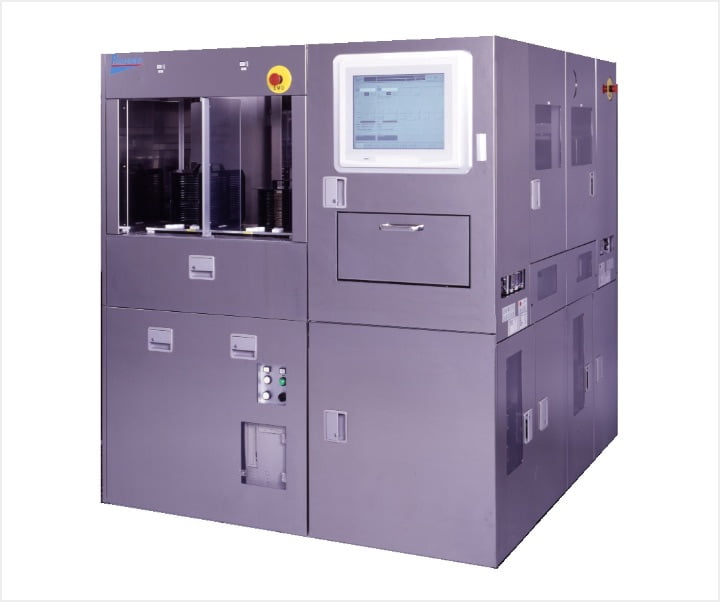 Freely Customizable Design Designed to Meet Customer Requirements Regardless of Shape
Substrate Size
75mm/100mm/125mm/150mm/200mm/300mm
Can be used for square substrates
Materials Used
Photoresist, alkaline development, organic development, polyimide, SOG, etc.
Suitable for various materials
Specs
Number of Processing Cups
1~3
Coating Liquid Load Limit
Maximum 4 gallon bottles per cup
Number of Bake Plates
1~9
Number of Cool Plates
1~2
Other
Surface modification units such as HMDS and UV can also be installed
Installation of high step-mounting unit possible